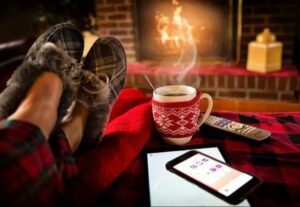 It's a big challenge for us to Improve wellbeing in lockdown. There is a lot of health tips for taking care of your mental wellbeing. There are some ideas to help take care of your Wellbeing during the COVID19 pandemic. With a second lockdown on the horizon, many of us are getting ready for more weeks. Or perhaps even months of being stuck at home. While staying at home and lockdowns are the best way to prevent the spread of COVID19 as muwellbeing in lockdownch as possible and keep everybody safe. There's no denying that being in isolation can have a serious impact on our health and wellbeing. After all, humans are wired for connection, and lockdown cuts us off from some of the most important people in our lives. If you're locked down with a partner or family! being unable to see your friends or extended family members can take a toll. So, what are some simple yet effective habits you can put in place to look after your wellbeing in lockdown?
Entertainment:
Staying entertained will make you feel a lot happier while in isolation, for sure. The last thing that you want is to be sitting at home feeling bored with nothing to do! So get some plans in place now for hobbies and ways to pass the time and keep you busy. Whether you find an app that offers live streaming to stream your own content or watch others. A playlist of lockdown tunes to listen to, a selection of movies and TV shows that you want to watch or a couple of new video games to play, make sure that you're not going to be bored.
Socialize:
When you can't meet up and go for a meal or drinks with friends and family, or visit each other in your homes, socializing can often feel difficult. But don't let the lockdown keep you apart from your loved ones. If you haven't already, download apps that you can use to keep in touch through messaging and video calls. Arrange regular virtual meetups with your friends and come up with things that you can do together. Multiplayer games are a great idea, for example, and you can all chat with each other using Discord or WhatsApp voice calling while you play. Netflix Party allows you to arrange a virtual movie night with friends. You don't have to meet up in person to have fun and connect.
Self-Care:
Lockdowns can be stressful and perhaps even cause a lot of anxiety for some people. Especially if you're used to doing a lot outside of the home and aren't used to being indoors on your own for long periods of time. In addition to the general stress that we are all feeling about the pandemic. And what it means for the future, remember that it's OK to feel worried and anxious right now. It's important to put yourself first and practice plenty of self-care, in whatever way is best for you. If that means getting comfortable to read a good book, binge-watching a comedy show, or treating yourself to at-home beauty treatments, invest some time in yourself and your wellbeing this lockdown.
Speak to a Professional:
If you feel that the lockdown is seriously impacting your mental health and wellbeing, professionals are there to help. Many therapists are offering video sessions or even online therapy that you can use to talk to somebody about how you are feeling and get help. A therapist can help you work through the feelings of anxiety, validate them, and help you design healthier coping mechanisms for yourself to regain that feeling of control in your own life in such an uncertain and stressful time.
With lockdown II imminent, looking after your wellbeing is just as important as ever this time around. Put some plans in place now to make sure that the next lockdown is kind to you.
Keep scrolling to find more great lifestyle information on this blog.