Crafting Must-Have: Everything You Can Do With a Vinyl Cutting Machine
December 20, 2020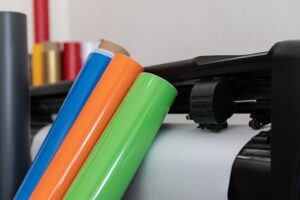 A vinyl cutting machine is a good investment for producing different types of arts and crafts projects. Here's a look at some things a vinyl cutter can do.
If you've mastered every hobby and D.I.Y. project you set your sights on, perhaps now is the time to test out some new crafting capabilities.
One of the most versatile tools you can have in your artistic arsenal is a vinyl cutting machine. This high-tech machine can create everything from stickers to T-shirts—the only limit is your imagination.
What Is a Vinyl Cutting Machine?
Historically, vinyl cutting machines were large, heavy-duty equipment used predominantly by professionals in the sign-making industry. Now, they've evolved so that both professionals and hobbyists alike can create high-quality designs at home.
A vinyl cutting machine connects to your computer and is able to read designs, similar to how a printer reads documents. Unlike a printer, a vinyl cutter actually uses small blades to slice designs or patterns into the vinyl or material of your choosing.
If this is your first foray into the world of vinyl cutting machines, consider purchasing a smaller version that attaches to the end of your desk.
How Do I Operate a Vinyl Cutter?
Though the scale of the machine can vary, the general process remains relatively universal no matter which model you opt for.
Once you've found or created a design you love, it's time to cut it out.
The material that will be cut is fed into the machine. Be sure to take note of any sensors that indicate how far the material needs to go in. Then, clamp the rollers down on the machine. These will help move it as the blade follows your design.
When the machine is through with your design. You will need to weed or remove, the excess material that backs it.
If you struggle with your silhouette cameo cutting through vinyl backing. It's best to adjust the settings of your machine and tinker with them until your design comes outright.
Manual Die Cutter
If the idea of computer software intimidates you, a manual die cutter could be the best vinyl cutting machine for you.
By using die cuts and embossing folders, you can achieve stunning designs without worrying about technology. Similar to an electronic vinyl cutter, you feed your material through the machine and out pops your design.
Manual die cutters are inexpensive compared to vinyl cutters that utilize computer software.
What Can I Make With a Vinyl Cutter?
Traditionally, vinyl cutters were used to make signs and advertisements for companies. While that's certainly still an option with your at-home vinyl cutting machine, there are many more projects that your vinyl cutter can assist with.
Get Your Message Out With a Sign
Drawing on the origins of a vinyl cutter is a great use of your vinyl cutting machine. By cutting patterns into vinyl or other adhesive materials, you can create your own wall hanging, bumper sticker, or window sign.
These can be useful for birthday parties, directions, or if you host a yard sale.
Personalized Stickers
Not only are stickers simply adorable but they make great gifts, too. Personalized stickers instantly transform plain phone cases, laptops, or notebooks into unique and instantly recognizable works of art.
Bonus: creating stickers is one of the more foolproof projects you can do when using your vinyl cutting machine.
Labels to Help Organize Your Life
It's easy for a vinyl cutter to double as a label maker. From organizing the storage bins in your office to aiding with meal prep. Labeling the contents of containers is a simple way to make your day-to-day life easier.
You can apply your labels to magnetic backing. Making them easy to move around a chore chart or to-do list on the fridge.
Iron-On Transfers
Vinyl cutters can cut designs on a variety of materials, including iron-on transfer paper. If you've ever had a great idea for a snippy T-shirt saying, a vinyl cutter can help turn that dream into a reality.
This can also be a great way to save money if you need to get group T-shirts made for a company softball game or bachelorette party. Doing it yourself is much less expensive—and more fun.
Car Wraps
If you've been wanting to ride in style, a vinyl cutter is just the ticket. Depending on the size of your artwork, you may need to invest in a larger machine, though a collection of smaller car wraps will certainly transform your vehicle into a dream machine.
Unique Apparel
Similar to iron-on transfers, a design of your choosing can be printed onto a T-shirt, tote bag, a pair of socks—whatever you want—via screenprinting. The vinyl cutting of your design makes a great template to spread ink over.
Pop-Up Stationery and Cards
You can make your thank you cards even more personal by crafting pop-up features that can easily be made from cardstock, paper, or even cardboard. If you really want to push the envelope, consider using your vinyl cutting machine to make your very own storybook.
Easily Change Your Interior Design
If you're someone who grows bored when furnishings inside your home stay the same for too long, consider making peel-and-stick wallpaper with your vinyl cutting machine. Create your perfect accent wall with customized wallpaper. Or, rather than utilizing one design, create murals from several different adhesive designs.
You can also enlarge a meaningful quote and place it for all to see, cut out intricate shapes to place in shadowboxes as art, or even place a fantastical window scene for some added whimsy.
What Will You Make With Your Vinyl Cutting Machine?
Now that you have an understanding of what owning a vinyl cutting machine entails and some ideas on how you can use it, it's time to start dreaming big! Custom designs not only make thoughtful gifts but could easily turn into a lucrative, at-home business. For more artistic inspiration, check out our stories on everything from culture to cinema.