Daily Maintenance Tips for Driving a Forklift
March 30, 2022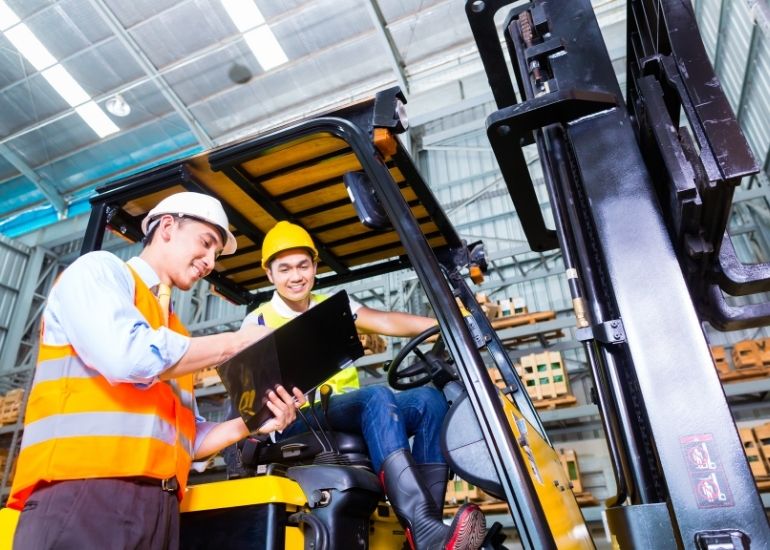 Warehouses are the epicenter of e-commerce businesses. They hold all of the inventory that gets shipped worldwide, but in order to sort through all of these items, you need to drive a forklift.
Since forklifts have become an essential tool for modern businesses, you need to maintain them for your business to run efficiently. In this guide, you will learn some daily maintenance tips for driving a forklift.
Always Perform a Detailed Daily Inspection
One of the most essential maintenance tips for forklifts is to inspect them daily. Your daily inspections are critical to maintaining a safe working environment and maximizing productivity in your warehouse. The Occupational Safety and Health Administration (OSHA) requires a daily assessment for any workplace that operates a forklift, so not only will daily inspections keep your equipment in good shape, but it will also keep you on the right side of the law.
Go Through Your Engine-On Checklist and Your Engine-Off Checklist
There are two separate checklists for your daily inspection that you will use. The first is for when the engine is off, and the second is when your engine is on. When your machine is off, you will see if there are any coolant, engine oil, hydraulic oil, or fuel leaks.
Then, you will assess the tire conditions and make sure they have adequate air pressure. Afterward, you will check the overhead guard, the security of your load backrest, and finally, your mast chains, hydraulic hoses, cables, and stops.
Once this checklist is completed, you will power up the forklift and examine the service brake, parking brake, accelerator, steering wheel, and forward and reverse functions. Learning how to properly test your forklift battery is another essential activity that you should practice daily.
Have Your Forklift Serviced By a Professional
Hopefully, your inspections run smoothly on most days, but when you find any problems with your forklift, you should have it serviced immediately. Your examination results should tell you what needs to be fixed, so servicing shouldn't take too long.
However, you should never use a faulty forklift because it's a significant safety hazard. Therefore, if you only have one forklift, taking it out of service can cost your business valuable time.
Overall, forklifts provide many benefits to businesses, but only when they're functional. Now that you know some daily maintenance tips for driving a forklift, you can make sure that you always have operational forklifts in your warehouse.