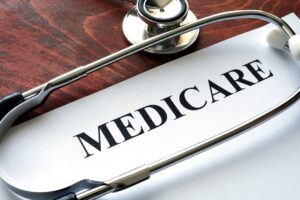 There are many confusing aspects to Medicare, but there doesn't have to be. Click here to find all your Medicare FAQs answered.
Medicare makes up at least 15% of federal spending and 20% of health spending. It's one of the largest government programs in the world but also one of the most misunderstood.
Everyone needs Medicare help to choose the best plan for their needs. There is a wide range of options and a high potential for scams.
This is why you need to find answers to your medicare FAQs before applying. There's a limited window to get a new plan or make changes.
Read our easy medicare guide to have all your questions answered. We'll cover the difference between Medicare and Medicaid, who's eligible, when you can enroll, and what different parts and plans cover.
1. What Is the Difference Between Medicare and Medicaid?
Any Medicare guide should begin by defining what the program is. One of the best ways to do this is to compare it to Medicaid.
Medicare and Medicaid are provided by a government agency known as the CMS or Centers for Medicare and Medicaid Services. They're similar but differ in several important ways.
Medicare applies after you turn 65 or if you have a severe disability. It does not look at your income.
Medicaid looks exclusively at your income and not at your age. You're only eligible if you have a low income.
These two programs also cover different services. This is part of why they're offered separately.
It is possible to meet the conditions for both, making you dually eligible. This allows you to get the coverage provided by Medicare and Medicaid.
2. Who Is Eligible?
Not everyone can apply for Medicare because they must meet certain medical and age requirements first.
Medicare is available to anyone who's over 65. You may be also eligible if you have certain serious disabilities or diseases such as end-stage renal disease.
You'll have to submit the right paperwork to the CMS to receive Medicare coverage. As long as you do so at the right time and meet the eligibility requirements, the benefits should apply soon.
3. When Can You Enroll?
9 in 10 seniors who are old enough to apply for Medicare rate their health care and health coverage positively. If they're not satisfied, they must make changes at the right time of the year or risk being stuck with their current plan.
The Initial Enrollment Period applies 3 months after your 65th birthday. This is the best and easiest time to apply.
If you don't apply at this time, your next chance comes during the Annual Enrollment Period. This occurs every year from October 15-December 7th. If you do apply during this time, your coverage will start on January 1st of the next year.
During the open enrollment period, you can make changes to your current plan or enroll in Medicare for the first time.
Outside of this time period, you may only do so if you meet the requirements for the Special Enrolment Period. These include moving, losing your previous coverage, or being eligible for Medicare and Medicaid.
4. What Do the Different Parts Cover?
Medicare is not a single type of coverage. It includes separate parts that cover specific types of services. When applying, you can choose which parts you want to add to your policy.
Medicare Part A covers hospital care. It pays for any inpatient procedures or treatments. It doesn't cover regular medical services, emergency care, rehab, or long-term skilled nursing care.
Part B covers medically necessary treatments and preventative services that occur outside of a hospital. These could include blood tests, checkups, and more.
Parts A and B make up what is known as Original Medicare. This is the most common option because it covers the most common medical procedures.
Part C is another name for Medicare Advantage plans. These are private coverage options that cover the costs of more types of services.
Part D pays for medications and vaccinations. It can save patients a great deal of money, especially if they frequently purchase expensive medications.
5. What Are the Different Types of Plans?
A traditional Medicare plan from the CMS isn't your only option for Medicare coverage. You can also choose a Medicare Advantage or Medigap plan from a private insurance company.
Medicare Advantage plans include all the coverage of Original Medicare as well as prescription drug coverage. Depending on the plan, you may also get coverage for dental, vision, hearing, and transportation services.
There is an additional monthly premium for Medicare Advantage plans that varies depending on the plan you choose, where you live, and other factors.
There are also different types of Medicare Advantage plans. You can choose an HMO or Health Maintenance Organization, PPO or Preferred Provider Organization, PFFS or Private Fee-for-Service, or SNP or Special Needs plan.
Not all plans provide coverage in all areas. They may limit which doctors you can see and where your coverage applies. If you travel often, try to find a plan that applies wherever you go.
Medigap plans are another option that covers any gaps you may experience with your current plan. They're a form of supplement coverage that are also offered by private companies and vary in costs and coverage options.
Creating a complete guide to Medicare is difficult due to the complexity of the program and the differences between each plan. The more information you have, the better you'll be able to understand it. See this article for more answers.
More Medicare FAQs
Medicare is one of the most popular options for healthcare coverage for the disabled and elderly. It comes with several parts, including A, B, C, and D. There are also private plans known as Medicare Advantage and Medigap.
Medicare doesn't take into account income like Medicaid, but you must be a certain age or have a qualifying condition to be eligible. You must also apply or make changes at the right time.
There is an almost endless amount of Medicare FAQs patients could ask about this complex form of healthcare coverage. The more information you obtain before applying, the more likely you are to get the best possible plan.
Read the rest of our content to get more help for Medicare coverage.