5 of the Best Small Business Accounting Tips
December 18, 2020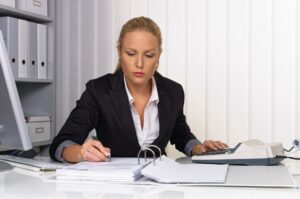 When you're a small business owner, you can't afford to let your bookkeeping slide.
Getting the accounting basics in order will keep you and your employees out of the weeds and focus on your business's growth.
Keep reading for five small business accounting tips for your organization to adopt today.
1. Separate Business and Pleasure
It's vital to separate business expenses from personal expenses. Open a dedicated bank account for your business checking and savings. Separating expenses makes it easier to add up deductible business expenses. If you set these accounts up early on, you'll quickly get used to using different bank accounts for specific purposes.
You contribute personal resources to your business, make sure to document these contributions clearly.
If you have a limited liability company (LLC) or corporation, having separate bank accounts also limits legal exposure to business debts.
It's illegal to deduct personal expenses from your business's tax return. If you share property for your business and personal use (such as a home office or car), the portion of the time you use it for business is deductible. If this isn't adequately documented, you can face a penalty of up to 75% of the additional tax amount owed.
2. Track Every Expense
To maximize tax write-offs and credits, track your cash flow, and label each expense. If you don't, you can quickly run out of money, as dollars add up quickly.
To avoid ending up with a wallet full of receipts, get a business credit card to use for all purchases. Another benefit to this is that you can collect and redeem rewards and cashback from your credit card company.
When you can only pay cash, keep digital copies of your receipts.
3. Accurately Record Income
It's easy to lose track of revenue from sales and loans, but it's essential to record all of your business's cash flow. Failure to do this could lead to you underpaying the IRS, which means you'd be subject to avoidable penalties.
Successful accounting organization always includes accurately recording income.
4. Hire a Professional
If you're overwhelmed with your business's accounting tasks, consider hiring a professional accountant. Having an expert review your accounting practices a few hours per week or month can reduce your stress along with your workload.
An accountant can also help you with strategic planning and filing taxes.
5. Automate Accounting Practices
Gone are the days when all business owners had to balance their books manually. Now, you have access to accounting software that links to your bank accounts and credit cards.
Excellent accounting software automatically tracks your income and expenses—and categorizes them as well. Many popular options allow you to send invoices and generate profitability reports.
Follow These Small Business Accounting Tips to Ensure the Success of Your Business
Proper accounting methods should be the backbone of your business, so these small business accounting tips are vital to your success.
Take the guesswork out of accounting by following the advice of professionals.
If you don't have an accountant, get in touch with one and ask about their fees and services. Purchase accounting automation software so that you don't have to store essential accounting information on your own.
Did you find this article helpful? Continue browsing our website for more content like this.