An Essential Baby Shower Event Planning Guide
December 17, 2020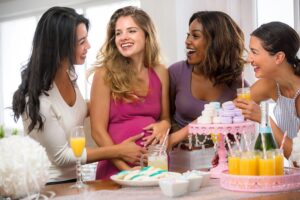 Did you know that the average baby shower can cost up to a thousand dollars? As an important milestone for both mom and baby, many women feel it is necessary to go all out and put together the perfect party for their friends and family.
If you are tasked with baby shower event planning, you should not have to worry about pulling off the ultimate baby shower. Want to know how to have the most memorable shower? Here are a few tips that will make the mother-to-be and guests happy.
Plan Around the Due Date
If you know the mother-to-be's due date, then you should try to plan the baby shower at least a few weeks in advance. This gives flexibility for the mother, so you will still be able to throw a shower if the baby wants to arrive early.
For those who cannot have a baby shower before the baby is due, you can also host the event after birth. Although not as common, these types of events are fun because guests will have a chance to meet the new baby for the first time.
If you're not sure when the best time frame is for a baby shower, you may want to sit down with the expectant mother to work out a time frame that fits. That way, everyone is on the same page and the mother feels comfortable with the timing of the shower.
Have a Good Theme
It is always a good idea to have baby shower themes related to something that the mother-to-be enjoys. If you're stuck on ideas, try thinking about her favorite music, movies, or hobbies that she enjoys. You can turn almost any passion or interest into a theme for a fun baby shower.
Once you have determined a theme, you can decide on decorations and a color scheme. You do not have to stick with the cliche colors of pink or blue for a girl or boy, you can get creative with the decor and make the baby shower unique.
You can also coordinate the party favors around the theme, such as cand and other souvenirs. Often you can find matching favor bags and decor at party supply stores, so you can buy everything at the same place.
Have Pregnancy-Friendly Food and Drinks
One of the less talked about aspects of growing a baby is that there are some dietary restrictions. The most obvious one is avoiding alcoholic beverages, but even some types of foods might cause harm to the baby.
For shower guests who enjoy alcohol, make sure to confirm with the mother whether or not she wants alcohol at the party. You can also make delicious mocktails that are customizable and simply not contain any alcohol. Ask the mother what her favorite drink is and make an alcohol-free version.
Make sure to have the food and drink focus on what the mother-to-be wants to eat. For instance, try not to have fish as an option, because that is a red flag during pregnancy. Avoid high amounts of caffeine as well.
Plan Entertaining Games
A baby shower isn't the same without a plethora of entertaining games throughout the course of the party. It is best to plan the games ahead of time, to make sure that you have all of the items needed to have a great time with all of the baby shower guests.
One of the most popular baby shower games is the diaper pin game, where all guests receive a diaper pin necklace at the beginning of the party. Then the challenge is to not say the word "baby" during the shower. If you slip up and say it by accident, then you must hand your necklace over to the person who caught you.
If you are stuck on ideas for games and entertainment, the internet is a wealth of resources for games revolving around all aspects of motherhood, such as breastfeeding, diaper changing, and baby food. Make sure to prepare fun prizes for the winners.
Help Set Up a Gift Registry
Choosing baby shower gifts can be tough if you do not know what the expectant mother wants or already owns. A gift registry is easy to set up and will help baby shower guests pick out exactly what the mother-to-be wants for the new baby.
Modern gift registries are convenient and can be set up through retailers like Target, Amazon, and Wal-Mart, as well as many others. When guests purchase an item from the registry, it will show to the other buyers that the gift has already been bought, avoiding the hassle of repeat gifts.
Gift registries are also an ideal option for family or friends of the expectant mother who is unable to make it to the shower. They can have the gift shipped directly to her home and still participate with a thoughtful present. Guests can also have the option to bring registry gifts to the event.
Capture Memories Through Photos and Video
A baby shower is one of the most important events in a new mother's life, so you should try to document the event as much as possible. Have guests take photos and videos, and with the mom's permission, you can use a customized hashtag through social media.
For a more professional approach, you should consider hiring a professional photographer or videographer. You will get beautiful photos that can be cherished for a lifetime, and none of the guests will have to be behind the camera while enjoying the party.
A fun baby shower gift for an expectant mother is to give her a photo album or a framed picture after the event. That way, she will be able to relive the memories of celebrating her new child.
You Will Master Baby Shower Event Planning
Baby shower event planning does have to be too difficult or stressful. With this information, you should be able to pull the event off as smoothly as possible.
Want to know more about event planning? Check out our blog for more details.