Top 7 Outdoor Gathering Ideas for Friends and Family
December 16, 2020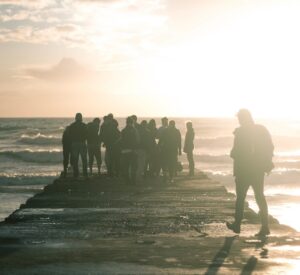 Do you have a birthday or graduation coming up? Are you looking to plan a stupendous outdoor gathering?
Believe it or not, outdoor soirees with adults and littles can be about so much more than picnic tables and hot dogs. With a little planning and creativity, your outdoor family gathering could be a celebration everyone remembers for years to come.
Here are some of our favorite ideas.
1. A Treasure Hunt
A treasure hunt is one of our favorite outdoor games to play at family gatherings. You can mix adults in with their youngsters or have a kids-only hunt where the older children are mixed in with little ones.
Young people can work together to find treasures on a list that could include fancy prizes like candy or coins. And the team that gets everything first will win the grand prize!
In another version, you could have a series of clues that point to the next clue until someone finally finds the treasure.
If you've got a family with slightly older kiddos, they might be happy to help you create the game. Those with a more creative flare may wish to add their own artwork or lettering to maps and clue notes.
2. Fun With Art
One of the best parts of having parties outside is that the mess is no problem! Let kids decorate T-shirts, use squirt paint, or use egg beaters to make paintings out of soap. Kids might also enjoy painting rocks, leaves, or twigs that they find themselves.
Outdoor messes are easy to spray away with a hose. Just make sure you tell kiddies to bring an old outfit for artsy activities.
3. Hot Dog Bar
Hot dog bars are a great way for entire families to mix it up outdoors! Ensure you have a variety of low-maintenance, high-fun ingredients that adults and kids will love to choose from. If you want to get super creative, rent a hot dog cart from a local venue, and have a carnival theme!
If you've got vegetarians or other health-conscious folks coming to your party, you can offer a few different types of dogs, such a vegetarian or turkey options. And if you have kids coming to your party, you'll want to have basic toppings like ketchup, mustard, and chips available. Adults might appreciate a variety of cheeses, relishes, or guacamole.
Make your party authentic by serving things up in little hot dog trays as your local hot dog man does. These are easy to find at your local dollar store or online.
And hot dogs are an easy thing to add sides to. Try making a big bowl of coleslaw, potato salad, or even popcorn. A jug of fruit punch will work great for the kids as long as you've got some cold cans of beer and wine coolers for moms and dads.
4. Beach Party
If you live near the coast, renting out a section of the sand could be just what everyone needs for a great time. Consider having a theme, like a Hawaiian luau or a Boardwalk celebration. Everyone can come dressed to suit the occasion!
Finger food, watermelon salads, and skewers are a great way to highlight your summer theme. And you'll want to choose decor that will bring in a beachy feel.
If your guests aren't sure how to pack for the beach, let them know if the theme will be casual or a little dressy when guests aren't heading for the water.
5. Group Fitness Party
If your friends and their tots are into fitness, a workout party is a great way to get everyone movin' and groovin'. Some workouts are great for both children and kids, like Zumba and yoga. Make sure you tell everyone to bring their workout gear and mats beforehand.
Snacks for your workout party could be healthy, like smoothies, granola, and fruit. And everyone can leave with their own souvenir water bottle!
6. Ice Cream Sundae Bar
Ice cream never goes out of fashion, and it's a great way to welcome the warmer weather. If you've got health-conscious moms and dads, have some frozen yogurt options they can feel good about.
Kids always appreciate a variety of sauces, such as chocolate, caramel, and strawberry. Creative parents also have options like brownie bites, peanut butter cups, and candy bars. You should also include some fruit and nuts.
The best ice cream sundae bars are accompanied by labels, so everyone knows what they're about to sprinkle on their confection. And eating outside means you've just got to throw out the plastic tablecloth after everyone's had their fill!
7. Outdoor Movie
An outdoor movie means that kids will be occupied while parents eat and chat. Just be sure to pick a flick that everyone's excited about. Giving each kid their own personal popcorn pack is also a great way to keep them happy. Serving up cold ice cream sodas and homemade "souvenirs" can also give them the feel of a real old-fashioned outdoor theater.
You can purchase outdoor movie screens online or at your favorite home improvement store. It's also possible to rent them.
The Best Ideas For Your Outdoor Gathering
The beginning of warmer seasons is an excellent time for a kick-off outdoor gathering. All you'll need is some simple activities and the right decor. With a little creativity and a lot of heart, you could have a party that everyone will talk about for a long time.
Don't stop getting smart about your lifestyle now. For more great advice on food, culture, and fun, read our blog today.