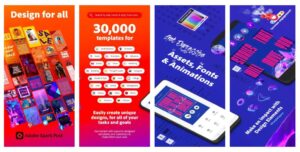 The Adobe Spark app is a great app for making edits to photos. Here are 5 tips to turn you into an Adobe Spark professional.
The Adobe Spark app is revolutionizing the ways of designing social media campaigns. It is an all in one photo editing, video, and web page building app. From slideshows to collages to Facebook and Instagram posts, you can create content for any platform.
Discover these Adobe Spark app tips and see how you can creatively maximize your content while minimizing your efforts.
What Is the Spark App?
The Spark App is a graphics tool that allows you to create stunning visual social posts, for business or pleasure. There are three main groups; video, page, and posts. While they are all accessible through their website, the apps are separated by these groups and must be downloaded individually.
The Spark App is user-friendly, comes with hundreds of templates to use or for inspiration, along with a library of visually-striking photos at your disposal.
1. Photos for Posts
If you are photographing your own content, you're surely editing it as well before it makes it to the design table for a post. Look no further for all your editing and posting needs in one place!
Adobe Spark draws from its' extensive background in photo editing software to meet all your graphic design dreams.
Crop your images for free, resize them for different media outlets, and say more by adding text to your posts in just about any font you can imagine.
2. Stunning Video Content
It's ok if you've never created a video before, the Spark App will make you look like a professional in no time!
Tell your story in a way that is sure to capture your viewers' attention: add music, be your own narrator, and choose from a library of motion graphics.
Are you a visual learner? Check out this in-depth video tutorial to get you started.
3. Web Design
If you've ever thought about creating your own webpage and then get overwhelmed with definitely not being trained as a web designer, you'll be relieved you found Spark Page.
Adobe hosts the webpages that you create, so you don't have to buy a domain name. Designs are simple and functional, guaranteed to work on both mobile phones and desktops.
4. Sharing and Collaborating
Adobe Spark app makes it easy for you to share content you're building for editing or review. Multiple users can contribute to one project and collaborate as a team to create the best content.
This is especially great for students, as Adobe Spark is an excellent way to work on a visual class project.
5. Logos as PNG's
Adobe Spark video, post, and page all make it incredibly easy to upload your transparent background PNG logo. Your logo is your brand and how people recognize what you have to offer. So put it on everything in Adobe Spark!
Get your name out there on beautiful eye-catching content.
1 App, Endless Tools
Engage your audiences to like never before all in this one app! Whatever your goals are for social media content, Adobe Spark app has you covered.
Tell your story and get your name out there all from one tab on your web browser….what are you waiting for? Click here to see for yourself.