Find Out the List of Some of the Best Video Editing Apps
November 2, 2020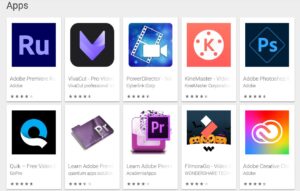 Smartphones have taken over our lives. Users are spending lots of time on their smartphones, as it makes everything possible. There are financial apps, e-commerce sites, and online video editing tools available that can be downloaded on the mobile apps.
A significant thing that people look at when selecting a phone is the camera on the phone. This is one feature that is closely looked at. Some phones are flooding the market daily, and today mobile phones can compete with professional-level photography. Many video editing tools are available on apps like those used by Adobe Premiere. It is now an essential part of the video editing market.
If you are on the hunt for some great video editing apps, then here are some of them that you can try out easily.
Adobe Premiere Rush
The App is available to be used by desktop and iOS operating systems. There is a starter plan that one can use, and then if they like it, they can move to the advanced features. There are unlimited projects that one can do using this App. The video editing app lets one create and share online videos.
The App is easy to learn, and one also gets a lot of control. To create something good, you can create audio features, graphic templates, and many more. You are also free to trim, capture, and add color filters to your video using this App. The video editing app interface is simple, and some features let you make videos of a professional level. With the one-click feature to add audio and adjust background voice and volume, the App also helps you sync the video across devices. The best thing about this app is that it is clutter-free and designed well. Also the Adobe Spark app is a great app for making edits to photos.
iMovie
The video editing app is perfect and can be used by using smartphones that support iOS and macOS. It is free to use, and the App is also easy to use, making it hassle-free even for a beginner who is just into video editing. You can create trailers like Hollywood style when you use this editing tool. There are many unique themes to choose from, studio logos, and many more features that make this App attractive. The video editing app also supports 4k resolution, and one can also edit the video on their Apple phone and then project it on a screen for viewing. You can transfer the videos through your Apple devices. You can also share your videos on any social media platform.
Some of the features that make this video editing app stand out are that it lets you fix a shaky video. You can edit the clip up close and also can change the tape and audio clip. With its in-built special effects, customization features, and video enhancement uses, the App is a real help for those who are into video editing.
QUIK APP
The video editing tool is available to smartphone users whose mobile phones support iOS or Android operating systems. The best part about this App is that it is free to use. The users can uneasily make videos when they use this application. The editing process is fast, and you are free to edit, capture, and post videos in no time when you use this App.
The main reason why this video editing tool was designed was for Instagram users, but it is perfect to be used by anyone who wants to edit videos on their device. There are many kinds of video styles in this App that one can choose from. There is an automated editing feature, which is one of the best parts of this App. You can also tweak videos, titles, fonts, and use filters and trims. However, the editing control could be a little limited, which could be a concern for some.
SPLICE
The video editing app can be downloaded by anyone who uses the iOS mobile. The App is free to use. You can import clips and arrange them and edit each of the clips individually when you use this App. The video editing app can be used for all-purpose editing, and it lets you edit the videos quickly on your iPhone. You are free to add transit, edit and put in filters in your video. You can also arrange and trim the video clips. And you can also put in documentary styled effects to your video if you wish to. There are many soundtracks too available to add to your video when you use this editing tool.
inShot App
The App is available to be used by iOS and Android smartphone users. The video editing app is comprehensive, and it lets you create videos, trim and merge clips, and delete and cut videos. You are also free to adjust the speed of the video when you use this App.
The video editing app is perfect to be used by someone crazy about posting videos on Instagram. You can create image collages, blur the border, filter, have voice-overs, and add text to your videos. The App also lets you control the volume of your video. You can add an emoji to your video too. The App enables you to rotate and flip videos if you wish to. With its feature-rich and fresh features, the App is a hit among video editors.
Conclusion
If you know the parameters you are looking for, it should not take you any time to find the best video editing app. Just make sure to try out the free or the trial version and if you feel that the App provides all that you are looking for, then go ahead and purchase it. You may also want to check out the features to see if you need all or just some of the premium features. While there are many more video editing apps, these are some of the best to use. You may try them out to get the hang of it. If you're searching for a video editor for your browser, check over here.