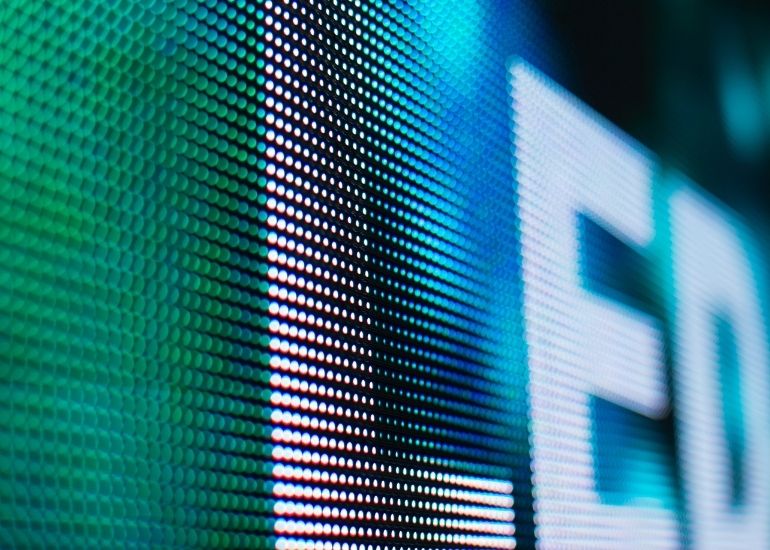 As we come to rely on technology more and more, it is no surprise that digital displays have become a major tool in branding. Whether trying to sell food, draw attention to your business with fun ads, or simply keep track of the next customer in line, using an LED sign can be a great way to boost business. There are several benefits of using LED displays for marketing your business that can take your sales to the next level.
More Interest
LED outdoor signs draw significantly more interest than web advertising, which is why they are so popular already! You've probably seen them displaying arrival and departure times or in restaurants displaying menus. Almost every sector utilizes digital signs because they're effective and tend to draw interest with vibrant colors and movement. Some companies opt to display the time and temperature on a screen, with their company's sign right above it to catch attention and garner interest. This can also mean that your company remains in the public eye longer, which is always a win in the marketing world.
Visual Data Is Processed Better
One major reason digital signage is particularly effective is that visual information is more commonly processed by people. When processing sensory data, 90% is visual. This means that when people see your product on an LED display, they'll be more likely to remember it and want to learn about it than if it were an audio ad. Well-placed LED displays outdoors may catch the eye of drivers and passersby, allowing you to gain organic interest in your business.
Low Maintenance Costs
One of the most appealing benefits of using LED displays for marketing your business is that they are cost-efficient, whether they are COB or SMD LEDs. LEDs in general consume less power. You can also reduce paper waste depending on usage, which can help reduce overall costs.
Easily Customizable
LED displays are easily customizable. This allows for just about anything to be displayed on them, whether you want menus, advertisements, or anything else. Fancy fonts, colorful and eye-catching graphics, and even animations can be displayed with little issue. Plus, if you ever have any need to change the graphics, you can do so with ease and without having to pay for a new ad or sign, since an LED display simply displays whatever you want, just like a computer monitor.