Best Editing Software for Vloggers
August 16, 2020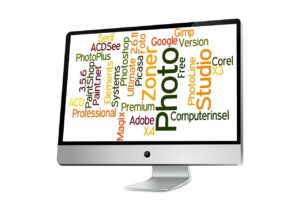 With the advent and exponential growth of different social media platforms, more and more people have started sharing their life online through videos. If you are an upcoming vlogger, the most important thing for you to keep in mind is the quality of your videos. The quality of your videos depends on two things – a good camera and high-quality video editing software. A good video editing software will take your videos to the next level and make them look professional. Whether you are looking to add visual effects and filters to your videos or want a simple outro maker to create end screens. You can use four editing software to create high-quality vlogs.
1. iMovie
If you are a Mac user (and relatively new to vlogging), this is for you. iMovie is a free, in-built editing tool that easy-to-use, even for absolute beginners. It has a classy and fairly intuitive interface that will not take you more than a couple of minutes to understand. From changing the speed of your videos to adding texts and voice-overs. This video editing tool is a cult favorite amongst most, if not all, upcoming vloggers. iMovie allows you to upload the final videos to your Facebook page or YouTube channel directly from within the software. You can also use iMovie on other iOS devices like your iPhone or iPad. Despite its limitations, iMovie remains a popular choice due to its simplicity and ease of use.
2. Final Cut Pro X
We cannot talk about the best video editing software for vloggers without including Apple's Final Cut Pro X. If you are an experienced vlogger, who is looking for a professional quality video editing software, Apple's Final Cut Pro is one of the best software to edit high-quality videos with fast rendering speeds and a host of incredible features like 360-degree videos, advanced coloring, HDR video support and more. The $299.99 price tag is steep, but if you need sophisticated editing software for your videos. This will be an investment you will not regret. But keep in mind, the Final Cut Pro X is a complicated video editing software that will take a lot of practice, even if you are a professional.
3. Adobe Premiere Elements
Suppose you have been blogging for a while and are ready to step up your game. In that case, Adobe Premiere Elements is a professional video editing software that lets you get creative with a variety of advanced features. One of the best things about this software is the two operating modes – Guided and Expert. Suppose you are transitioning from an amateur vlogger to a more professional level. In that case, the Guided Mode acts as a personal instructor and helps you work on advanced edits with inputs and assistance. You can switch to Expert mode once you have a better understanding of the software and are ready to work on projects without help. The Adobe Premiere Element costs $79.99, which we believe is a reasonable price for vloggers looking to create videos that meet professional standards.
4. VideoCreek
VideoCreek is another beginner-friendly movie maker https://videocreek.com/make/movie-maker/ and straightforward video editing software. That lets you edit your videos and add transitions, overlays, filters, etc. Compatible with both Mac and Windows, VideoCreek is perfect for vloggers who are just starting and want an editing tool with basic functionalities and features. VideoCreek's extensive collection of special effects and filters are enough to get any novice vlogger started on their video-making journey. Based on your skill level and requirements, VideoCreek offers different price models. And it also gives you the option to try the free version before you decide to commit and make a purchase.
Conclusion
If you plan on vlogging as a full-profession and want to make money through videos, the right editing tools can set you apart. There are many tools available at your disposal, from simple online movie makers to high-end video editing software. Do your research and pick the right tools that suit your budget and requirements, and you will soon be on your way to creating visually stunning vlogs.