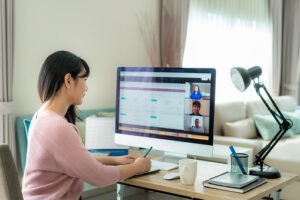 In recent months, jobs across the world have undergone a rapid change. Professions that were earlier considered to be office-only have now opened the doors to the concept of work from home. While some people have the misconception that work from home takes a toll on one's productivity. The fact is that if you plan it well, you can get an exceptional result from your at-home endeavors.
Marketing is no exception to this, and with the world gearing for an age of digital marketing. This might be the perfect time to work from home and direct your efforts to harness the power of YouTube. In this piece, we shall talk about some tips that will help you in this regard.
Focus on Having a Perfect Intro
With so much content available over the internet, you barely have the first few seconds to catch the attention of the audience. Failing to do so will cause you to lose a potential client. That is why marketing professionals need to come up with a quality YouTube intro.
While preparing an Intro for your video, you should be cautious about the length. Having a video that is too short might cause people to bail out. However, it needs to be long enough for you to make it unique, visually interesting, and tell people what the video is all about.
Also, it should have some brand logo, face, or something that people associate with your brand. This is important so that people will remember the video when they go to make a relevant purchase. With so many things to consider in a 5 to 10-second clip, it does make sense to invest your efforts at finding an appropriate intro maker tool like VideoCreek.
Renderforest is one of the best intro making tools. With a massive template collection along with the ability to modify the lighting, speed animation, etc. This is the perfect tool to help you express your creativity. For people who cannot afford a long time in preparing an intro, IntroChamp is one of the simplest-top-use tools that can give commendable results in a matter of minutes.
Be Receptive to Customer Communication on YouTube
Now that you are working from home, time management may be a challenge for you. With lots of things to cater to, you might find it difficult to respond to every single client comment on your YouTube channel. Understand that engaging in two-way communication is one of the most important aspects of digital marketing, and, under no situation, should you compromise on that.
Have a stipulated time of the day wherein you respond to client mentions and comments. If someone is dissatisfied with your product or service (or simply the video) and has posted a negative comment, do not get defensive. Instead, evaluate if the fault is on you and if this is something that you can fix. Remember, everything you do on YouTube is watched by your target group, and being prompt and polite in responding to customers will go a long way in establishing brand credibility.
Engage in YouTube Collaborations
Just because you are working from home, it does not mean that the marketing videos that you post have to be all about yourself. Look up industry experts who have a good number of YouTube followers and reach out to them to see if you can collaborate on videos.
With tools like Lightworks or Avidemux. You can edit such collaboration videos to professional levels from the comfort of your home. If you do not have much of an experience in this field, Openshot is free editing software that you might want to consider for such edits. In any case, collaborations with YouTube influencers will give you visibility among their followers, thereby increasing your reach.
Go for Animated Videos
Opting for animated videos is a good choice for brands that do not have a high budget that can afford actors. Moreover, with everyone works from home, shooting a video will be a much bigger challenge than making an animated one.
IntroCave will be your preferred choice if you are looking to incorporate engaging animation in your intros. Aesthetic particle effects of IntroCave helps in improving the overall quality of your animation. The free version comes with the company hallmark, and if you are looking for high-quality HD animation videos, you will have to pay $5 – $20 per video through your PayPal account.
Video is the best tool for people without prior experience in making animation videos.  There are several templates for you to choose from, and you can customize your animations without much effort on your part. The 7-day free trial is an added advantage as you can try your hands on the tool before deciding if it is the perfect fit for you.
Do not Ignore the Outro
Irrespective of whether you are work from home or office, outros are an aspect of video creation that you cannot ignore in a marketing video. It is the last few seconds of the video that stays with the viewer for longer than the rest of it. As a brand, if you can reiterate the core message of the video in the last few seconds, you can expect better results from the digital marketing campaign.
While many marketing professionals tend to use the intro tool for the outro as well, if you want your outros to stand out, you may want to use some dedicated tool. For those with a decent video making a budget, Videobolt is one of the best tools to design outros. Not only does it have an excellent website interface, but the editing is straightforward, and it gives exceptional results. The only catch here is that there is no free version of the tool, and the minimum plan stands at a monthly subscription of $7.99.
If you are on a tighter budget, FlixPress might be the best tool for preparing outros. With over 7 million registered users, it is one of the most-used videos making tools today.  Here, you will never run short on background or animation options.
In today's internet-powered world, most editing work can be carried out from the comfort of one's home. All that matters is how much planning and effort goes into the preparation of a marketing video. As that will play a major role in dictating the success of a digital marketing campaign.