Easy Fixes for the Most Common Phone Problems and Issues
October 3, 2020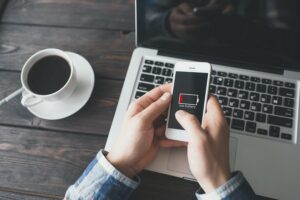 We all love our smartphones but sometimes they can be a real pain! Got phone problems? Here are some of the ways to identify and fix the issues.
When you own a cell phone, there are always some common issues that come with it. There are some common issues you can fix on your own, while others require the help and service of a repair shop.
Understanding the most common cell phone issues will help you know what steps to take. Here some common phone problems that you can deal with head-on.
A Phone That Is Buggy and Sluggish
There are several situations where a buggy operating system (OS) can make your phone virtually unusable. Everything from the power button to the headphone jack can stop working when you have operating system problems.
You should regularly update your OS because the manufacturer constantly works out bugs and other problems as time goes on.
If you have made upgrades, or if your phone freezes too often to make this happen, you can also try a factory reset. The reset will set your phone to its original condition so that you can make it run smoothly as it did before running into the issue.
Cracked or Unresponsive Screens
When you notice that your phone is cracked, or if the screen isn't responding to your touch, you'll want to enlist the help of a professional. While changing the screen isn't a complicated repair, it's delicate enough to leave it to experts.
By changing out the exterior, it'll allow you to keep the phone secure and will make sure that the cell phone isn't a total loss. If you need to fix a crack or another issue, you might be able to use some resin or another quick fix that will help you keep your phone in the best condition.
The Phone Isn't Charging Correctly
Electrical issues are also problematic from time to time. Sometimes your phone won't charge, or it will begin draining quickly.
This could be a battery issue, a faulty charger port, a bad motherboard, and any other number of problems. Because there are a lot of possibilities, this is definitely a situation that you will want to leave to a cell phone repair professional.
Before you drop the phone off at a repair shop, you should try out some different cords and chargers. Sometimes a cheap cord won't work as well as a high-quality cord, so buy those made by the phone manufacturer whenever possible.
Make sure to keep your phone cool so that it doesn't drain and so that you don't deal with a swollen battery. These sorts of things can create even bigger problems with your phone.
Fix Your Phone Problems
The tips in this article will help you fix whatever kinds of phone problems you're dealing with. Whether you're on team Android or iPhone, just about every cell phone owner comes into contact with these sorts of situations.
If you know to expect them, you can then take the steps to fix your phone and get it back into the best condition possible.
Lean on us when you need more tips on dealing with electronics issues.