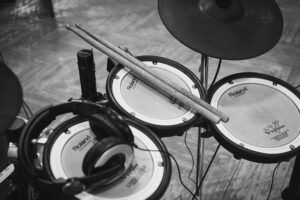 Learn how to choose the best drumming headphones for you in our brief but telling guide. Get your questions answers today.
There are a lot of things to think about as a drummer. Most of the time, you're focused on strength, speed, and coordination. While these are important, you don't want to forget about protecting your hearing while you're pounding away.
Often taken for granted, a pair of good drumming headphones are essential to keeping your hearing intact. They're also going to give you the best sound quality, which can make a real difference as you're playing.
If these are so important, how do you shop for the perfect ones? In this article, we'll tell you what to look for and keep in mind while you're shopping for the perfect headphones.
Different Types of Drumming Headphones
There are two main types of headphones for drumming. These are in-ear and full-size. It's up to you to find out which you prefer, but the in-ear options usually have the best protection.
Some find the in-ear to be too uncomfortable, though. In that case, there are some good full-size choices with closed ear cups and strong noise cancellation.
It should be mentioned that simple noise cancellation headphones won't work as drummer headphones. These are meant to drown out continuous background music, not the sharp and sudden sounds that instruments produce.
Seek Out the Perfect Fit
When shopping for high-quality headphones, the way they fit is going to make a big difference when it comes to protection and comfort.
Because of this, it pays to really try them on before you buy anything. If the headphones don't fit well, you're still going to be vulnerable to decibel overload and tinnitus.
If you've decided to go with in-ear headphones, you want to make sure it fits deep in the ear canal. The full-size sets should have sealed earcups that fit tight against your head with strong sound isolation.
Consider Your Sound Preference
Every set of headphones for drumming are going to have their own sound. The one you choose will ideally match the type of music you play.
For genres like blues and folk, you might want to look for a flat sound signature. Classical music tends to lean towards balanced, while rock and hip hop do well with a V-shaped sound or warm and smooth sound profile.
Take Your Time
A lot of people take this decision lightly, thinking any old headphones will do. Don't just rush out and buy the first pair you find that fits.
Really take the time to find the perfect headphones for your preferences and musical style. Look for the best noise attenuation and compatibility with your equipment.
Get Ready to Jam
Finding the right drumming headphones will keep your hearing protected and give you the best sound quality available. If you follow the guidelines above, you're sure to find headphones that will make all the difference in your music.
Are you trying to stay on top of the latest news in music, sports, and culture? Check out more helpful articles here on our blog to stay in the loop.