How to Make an Online Portfolio in Just a Few Minutes
September 11, 2020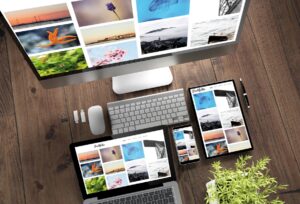 An online portfolio is crucial for landing jobs and acquiring clients. Thankfully, creating one is quick and easy – if you know how! Just follow these steps.
You want a special place online where you can display your skills, knowledge about any specialties, and personality to any potential clients or employers. If you don't want to stick to a LinkedIn profile, or you are a designer or other creative person, an online portfolio is the best way to do so. Online portfolios are a great way to get your talents out in the world. Making the right portfolio will impress anyone coming across them.
What are some online portfolio examples and how do you find an online portfolio maker?
If you are looking for a guide on how to quickly and effectively create an online portfolio, read below and follow these steps to find out.
Choose a Website to Host Your Online Portfolio Creation
Online portfolio designs should fit the aesthetic and function of what you want to display. Think about how you want your online portfolio creation to work for you both as a representation of you and your career thus far. When looking at your portfolio, do you want everything on one page, as an image gallery, or accessible via a menu?
Websites like Squarespace, Wix, Clippings.I, MuckRack, or Adobe Portfolio are some of the best-known online portfolio creator websites. These sites will also have ready-made templates that you can use without having to worry about making an entire website from scratch if you don't know how to code.
Add Your Work
Once you've signed up on your chosen online portfolio maker website, it's time to add your work to your portfolio!
When including previous work in your portfolio, make sure that you own the copyright to your work, have permission from your previous employer or client before using it as an example for future clients.
Add Your About And Contact Pages
While the people coming across your portfolio are interested in your work, they also need to know who you are and how best to reach you for potential employment or projects to work on.
For your about page, make a brief introduction where you can include information about yourself, who you are, what you do, and what are the main skills that you can offer. This is also a good place to state where you have been published and any awards or accomplishments you have achieved.
Should you also want to upload your CV to your portfolio, Adobe has a page where you can make creative resumes. Depending on the site you use, you can add it as a page or a button to click on. If you don't use them for your portfolio, you can also use it when going through the job-searching process.
For your contact page, you can add a contact form for anyone to reach you. If you don't want to do that, you can also list your email.
Are You Ready to Publish Your Online Portfolio?
Creating a portfolio is easy and simple. An online portfolio is an essential item for any designer, visual artist, writer, or other creative professionals to show off the best examples of their work to potential clients or employers. Once you've finished doing the steps listed above, you can share it with the world and continue to add to it as you go.
Check out our site for more news relating to the U.S., world, weather, entertainment, business, and many more topics.