7 Best Slideshow Makers Of 2020
August 24, 2020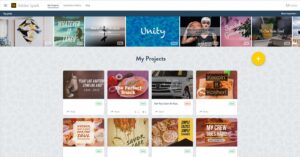 Making a perfect slideshow of old memories is a great way to save your heartwarming moments for a lifetime. When it comes to getting the best free slideshow maker, it is not easy for users to get a program that can meet their requirements. If you are looking for a way to monetize slideshows, then this type of solution will make it easy for you to accomplish it. With these slideshow makers, you can create cool content that can attract, engage, or entertain the audience.
There are numerous slideshow makers on the app stores, and each of them provides multiple functions that play tricks with users. And to help you out with this we have prepared a list of top 7 best slideshow makers of 2020. Note that the names that have been mentioned below are not listed in the order of their importance; they are all equally important.
1. FlexClip
FlexClip is a great online slideshow maker that comes with outstanding music and other effects. Users who are new to making slideshows find it to be the easiest way to get started with it. This software allows users to create slideshows professionally in a time-savvy environment. It comes with powerful functions that will help users to personalize videos with logos, text, vibrant colors, etc. It means that regardless of your photo editing skills, it always gives you satisfactory results.
FlexClip is inclusive of practical photo editing tools such as music cutter, preview window, text editor, etc. It is rich in elements, and you can easily apply these elements to slideshows.
Features
It is a convenient and free slideshow maker.
It can export high-quality slideshows.
This software has dynamic music and text animation features.
2. Pholody
The golden rule in slideshow making is simplicity, and Pholody emphasizes on simple yet effective slideshow making. All you have to do is upload your desired music and add photos to the software, and it will automatically make a perfect slideshow out of them following the rhythm. This is an excellent software that automatically aligns with the background music and texts. It has a number of template options that can be applied to the slide shows.
Features
Users can apply photo and music effects online with the URL.
It allows users to make a selection with exporting slideshows in the following ratios- 3:2, 16:9, and 4:3.
This software visualizes music by automatically aligning transitions.
3. Adobe Spark
Adobe Spark is an incredible tool that helps users to create interesting slideshows. It is a mobile and web device-based slideshow maker that allows you to give your ideas the form of stunning slideshows.
To start developing slideshows, all you have to do is select any storytelling template and create an interesting story. Then you can add media files to the slides and choose your desired image, text, music, and theme to add to it. It is also a great tool to start using for businesses as well as experienced professionals.
Features
You can easily publish and share slideshows across platforms.
It has several storytelling template options to choose from.
4. Photostage Slideshow Maker
The Photostage slideshow maker is an easy-to-use slideshow making tool using which you can make stunning slideshows within a limited time. You can easily choose your favorite pictures to use to make a quick presentation slideshow and enhance its appearance. To add more spark to it, you can use advanced editing tools to add stunning effects like transitions, captions, slideshow narration, etc. to it. You can save slideshows from transferring onto portable devices in a video format.
Features
You can easily adjust the duration of your slideshow effects with it.
It is easy to make multiple songs, voice records, and themes with it.
5. Icecream Slideshow Maker
The Icecream slideshow maker has the potential to create driving and engaging slideshows. You have to pay attention to its critical factors like usability, accessibility, and slideshow interface to understand the software better. It allows users to attach a single or multiple media content on the slideshow from their system. It also facilitates customization with easy-to-use features that can add value to the slideshow. Before saving the final presentation, you can preview your photo slideshow.
Features
It has a free and a commercial version for users.
You can easily add premade slideshows directly to the platforms.
6. ProShow Gold
The ProShow Gold software makes the process of making a slideshow quick and easy for users. It allows them to create a photo slideshow with a few simple clicks, and it is a perfect solution for newbies. You can use its automatic slideshow wizard or create your own slideshow using the available templates. It comes with more than 900 built-in slideshow filters and effects, and hundreds of royalty-free soundtracks.
Features
Numerous built-in filters and effects
Time control allows users to choose slideshow effect and duration
7. VideoCreek
VideoCreek is a professional slideshow maker that emphasizes the quality and simplicity of the content. You can easily choose one of its templates and add photos or music to it. It is a great solution for the novice and the experienced users who can use it to their full potential. VideoCreek is a great online video editor that comes with built-in templates and customization options. You can simply add transitions that are present in the software to connect multiple pictures under the same frame. Once you have added pictures, you can also add filters and texts to them to add the value to the slideshow.
Features
It has stunning templates that you can choose to create your slideshow.
It is easy to use.
Summary
You can choose the best slideshow maker from the above-mentioned ones to transform your photos into a great compilation. If you are a new user, then you can choose the simple ones. Most of the solutions are free to access, and you can integrate them easily into your system. The intuitive interface of the solutions makes them a perfect choice for creating slideshows.