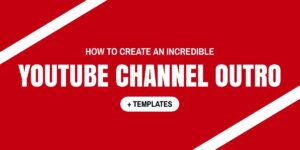 Outros are the short clips at the end of videos. YouTube is an excellent way of connecting with the audience. Outro maker helps in the editing of videos for making YouTube perfect.
Accordingly, it builds healthy relationships with the audience. It increases sales and retention rates. But even after using some fantastic apps for making videos, you are not earning enough subscribers. The sales are still the same and not attracting traffic. So, what do you think happens in this case?
Some YouTube channels have great content, and videos are missing out on Outros. Furthermore, Outro Maker helps in making these outros, especially to YouTube Likes.
1. What is YouTube Outro?
When you are watching YouTube videos, it is broken into three segments. Firstly, it is the introduction followed by the video. Finally, there is the end screen called YouTube end screen or Outro. It contains some end templates containing links, content, and sites. It also includes the CTA users use to check reviews about products or watch different videos. You can make these dynamic by adding video snippets in the templates. There can be clickable links that are good to go.
VideoCreek makes these outros too. YouTube helps in driving specific actions of viewers who have enjoyed the whole video.
2. The Best Outro Size that you can make
The best YouTube outro size is 1920px by 1080px. Consequently, it should be of the same dimensions as actual video having an aspect ratio of 16:9. Additionally, this looks nice when viewed on bigger screens. When thinking of YouTube end screens, you have to focus on the technical things also.
You will not want the video made by applications to appear just for a few seconds in the end. It is not enough time for people to know what they are viewing. The slip must be a minimum of 8 seconds for viewers to recognize it. They should be able to read it before taking action.
Ways of making YouTube Outro Video
Creating the outro video is simple. Simply log in to the website from where you will make the Outro. You can choose the YouTube end screen template, or you can start from the beginning. After downloading the template, the optimization is done as per dimensions. Further, the template contains blank frames for putting your featured videos. You can put other calls to action as well.
Customizing the template is easy. Furthermore, you can swap the background with your profile photo. It will make the slip so much personal, Or you can choose any image from the stock library and modify the text relating to the channel. videocreek offers editing features apart from editing ones. In seconds you will find a professionally looking end screen to be uploaded to YouTube.
These templates are easily added to the video editor for editing the photos. The smaller videos can be put on top. Add in additional video editor effects for making the short clip magical.
Best websites for Outros
OutroMaker
OutroMaker is the perfect program for all the YouTubers. Second, you can try all the free templates provided by the program. Sign in with a Google account for the seven days free trial. In the premium part, you can create 30 outros with ten available in the basic plan. Besides, if you are not happy with the service of this tool, you will get a 30 days refund.
Panzoid
Panzoid is similar to apps producing some excellent outros; users can start from the beginning or pick up any template. The tool can also make thumbnails, video intros, and banners, you can share it on social media for driving engagement.
Best practices of YouTube Outros
The result of the videos will be strong, depending on the YouTube end screen video. So, you have to make these videos equally impressive.
Using CTA's making sense
Links included in the videos are beneficial only when they make sense. You can have more than 1 CTA, but all should be driving. They should encourage customers to do something right.
Using of whitespace
Whitespace is a good design idea, while the Outro becomes crowded with so many elements. These are put on top of each other, making it so congested you don't see anything. The outros feel so out of place and boring.
Having consistency in the links
When you are adding the same templates, it brings a feeling of consistency. People love to see professional works with single templates as this helps in adding credibility, making your job easier. The links should be matching to the video. Customers should open the links and find relevant content in it.
Clarity
The outros made with video should be clear and crisp. They should give the message quickly. Further, consumers should know what the video is intending on saying.
Short
People don't like extended outros. It should be between 8 to 10 seconds for catching people's attention. However, a lengthy video gets boring, and no one watches it till the end. Just keep the Outro short and informative.
Effects
Don't forget to add special effects to the outros. But, keep the results simple. Don't try going over the board. Too many effects just make your videos feel messy and disturbed. People want to end screen videos to be simple and straightforward.
Feedback
You should take the feedback from friends, families, and other viewers. This way, you will come to know about the problems and fix them. Just take feedback before uploading your video to YouTube. Improve your video this way.
Conclusion
Many businesses are only wanting to promote their products and business. Briefly, you should work towards increasing the sales of the business. When you are planning to send users to a site after video, having an event, landing page, or asking them to subscribe will push them forward. These videos are easy to create, increasing the ROI of the business. This outro maker makes videos without any additional trouble.
So, what do you think? Which of the best end screens will work best for you? Find out and use it!