How to sell digital products in the online store?
June 27, 2020
An online store with electronic content is the perfect way to transform your passion into a profitable business! Read how to sell digital files online!
Selling digital files in an online store – why is it worth it?
In the age of digitization, consumers are increasingly choosing electronic products. An e-book instead of a traditional book or an mp3 file instead of a CD is one of the most popular examples confirming this trend.
The market for selling digital files is growing rapidly. Consumers are convinced that they can also receive valuable products in electronic form.
Of course, there will also be those for whom the smell of a new book or collection of CDs of your favorite artist will have an invaluable value, but nowadays more and more people are choosing digital products instead of their physical versions.
There are several reasons for the observed trend. Customers appreciate the ease and speed of receiving the item – just pay and the product will be in the hands of a new owner in a few moments, without tedious waiting for delivery.
In turn, for developers, the preparation of digital files is often easier – it does not require having physical materials, production in factories and storage.
You also don't have to worry about logistic issues – after all, digital files do not require packaging and shipping. All you need is a computer, some passion and you can open a business!
What to sell and where to get digital files?
We usually associate digital files with music, movies and e-books. In fact – you can meet them on the web most often. However, there are definitely more ideas for an online store with digital products! What can you sell?
e-books,
video
music,
photographs,
graphics,
guides,
online courses and training,
forms, documents, contract templates,
software and applications,
event tickets,
fonts.
There are two basic ways to create an offer with digital files. You can prepare them yourself or download them from your chosen warehouse. With this second option, you can instantly fill the store shelves with a digital range and start selling quickly.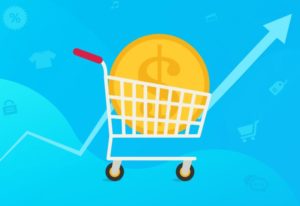 How to open a store with digital files?
Depending on what you do or passion for, you can create a unique store that will allow you to build a profitable business. It is important that you choose the software that will allow you to easily configure the necessary functions and enable this type of sales.
In Sky-Shop.pl sale of digital files is simpler than you think! First of all, you have a lot of freedom in choosing the materials you sell – you will easily include format files in your offer PDF, MP3, MP4, EPUB, MOBI, WAV and others. The maximum file size is 256 MB. Too little? One product can consist of several files, so you only need to divide it into several smaller parts.
The entire sales process takes place automatically. What does it mean? Convenience for both buyer and seller. After paying the fee for the selected product, the files are sent immediately. As a result, the customer can immediately enjoy the purchase, and the seller is exempted from having to manually send the file.
And what about the security of purchase? It is worth mentioning that all files and documents uploaded to the store are secured multiple times. Therefore, you don't have to worry about them being downloaded illegally by unauthorized persons. What's more, you can define the maximum number of downloads for a given file or specify the time when the download link will be active.
Sky-Shop software also allows you to track basic download statistics, making sales analysis easier.
Are you wondering if the store with digital files is for you? See for yourself that this type of business offers great opportunities, regardless of the industry you are involved in.
For whom it will be a great choice. Who is the online store for electronic content?
freelancers. It doesn't matter if you are a photographer, copywriter, blogger, or graphic designer – an online store where you sell your works will be a great business idea! You can sell your original texts. photos for commercial use. advertising material templates. illustrations, whether background music for films. There are really many possibilities!
Enthusiasts. Music or movies is your passion? Use it to open a business that will allow you to earn money by combining interests with work. If you are passionate about some field, you probably have extensive knowledge that is worth sharing with your clients. You will become an expert and you will be able to expertly advise your recipients.
trainers. There are really many ways to convey useful content and share knowledge. If you are an expert in a given industry, you can think about starting to earn on the acquired knowledge! Open your own store and offer your customers substantive E-books. guides. infographics. webinars. training videos whether podcasts.
Bookstores online. If you sell printed editions of books, you can extend your offer with their digital counterparts. As a result, not only will the offer of your online store become more attractive, but also you will be open to a completely new group of customers. This will definitely pay off more purchases!
The sale of digital files and legal issues
The sale of electronic files is slightly different from the trade-in material products. The Consumer Rights Act defines digital content as "Data generated and provided in digital form", distinguishing their two types:
digital content delivered to the recipient on durable media, i.e. a disk, flash drive, or CD,
digital content delivered to the recipient in a different way e.g. via email.
You must remember that by running this type of store, you conclude with your customer contract for the supply of digital content, not a standard sales contract.
You should include this information in the regulations. The document should include and accurately describe how the files will be delivered to the customer. In addition, it will be necessary to inform the buyer what requirements his equipment must meet in order to be able to use the file freely and without obstacles – this is called digital content interoperability.
One of the more important issues to consider when selling digital files is a consumer the right to withdraw from the contract. In the case of physical goods purchased off-premises, the customer may return the purchased item within 14 days without giving any reason.
However, this right does not apply if digital files are sold. Here, in accordance with the Consumer Rights Act, the buyer is not allowed to withdraw from the contract
Digital file-trading gives you great opportunities while being a response to changing trends and consumer preferences. The most important benefits of running this type of business include, first of all, low cost – after all, you save on storage, packaging, and shipping of products.
Don't wait and try your hand at e-commerce! In practice, the owner of the store is obliged to inform his client about it, e.g. by means of an appropriate, separate checkbox, as well as confirmation on paper that he has received the consumer's consent to provide digital content and the consequent loss of the right to withdraw from the contract.
About The Author
TJB Group